Projecten

Pagina
Op deze pagina een korte introductie van de 3 projecten waar ik aan werk of gewerkt heb. Deze zijn:

12" Computergestuurde Dobson
Deep-Sky Visibility Indicator
Telescope Equilibrium Manager
Astro PushTo for Android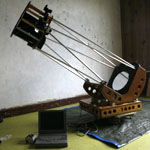 12" computergestuurde Dobson

Het zal ergens in juni 2009 geweest zijn, ik had al langere tijd het plan op gevat om mijn oude hobby weer serieus te gaan oppakken. De tijd ontbrak mij voorheen. Nu was de tijd gekomen, en ik wilde het meteen groot aanpakken. Jawel het plan opgevat om mijn eigen Dobson te bouwen. Het moest er meteen wel 1 worden die computergestuurd was. Lees meer...
D eep-sky Visibility Indicator

[Alleen in het Engels] What can be more frustrating, for a beginner amateur astronomer, then going out in the dark cold night with your telescope , making sure the scope is properly aligned or if you have a GoTo system, it is properly initialized, only to discover that you can't get any sight of the first few objects you are trying to observe. This tool helps rookie [or perhaps also the more advanced] amateur astronomers to give at least some clue [or if you will: indication] about the visibility of certain deep-sky objects [the tool won't work for stellar or stellar-like objects!]. After its first incubation the tools developed further and features to manage observation lists were added. Now those features are the lions-part of this tool, enabling you to manage and optimize observation lists. Read more...
T elescope Equilibrium Manager

Om een teleskoop optimaal te laten functioneren zijn er een aantal zaken die van belang zijn. Naast een goede collimatie, trillingsvrije montering is de temperatuur van de hoofd- en vangspiegel en eventueel de temperatuur in de OTA en de eventuele "tube currents" van belang om de teleskoop optimaal te laten presteren. de Telescope Equilibrium Manager (of kortweg TEM) is een systeem die dit optimaal regelt. Lees meer...
Astro PushTo on Android

My lastest pet project a PushTo for your telescope based on an Android mobile phone. It is just in the experimental phase and is currently not properly tested, but has already quite a set of nice features. Most likely the accuracy in the AZ/RA direction might be an issue, but we're working on it. Feedback on this project will be much appreciated. Read more...